Who are Cenergistic Energy Specialists?
Cenergistic Energy Specialists are vital agents driving client energy conservation across their facilities.
How do they do this? We talked to the Energy Specialists at four programs to get an idea of this unique position and the role it plays in creating savings.
(Related: Efficiency Excellence: How to Receive Recognition Through ENERGY STAR® Certified Buildings)
San Angelo ISD (TX)
Energy Specialists: Robert Rumph, Steve Van Hoozer
Most Energy Specialists are hired from their respective communities, and both Robert and Steve worked for SAISD before becoming Energy Specialists. Robert taught orchestra in SAISD for two years and spent almost two decades before in various teaching positions in the Texas Panhandle. Steve has worked with the district over 32 years, teaching and serving in a variety of administrative positions before Cenergistic.
This common background has created a cohesive team that understands the unique needs of district leaders, teachers and on-the-ground facilities personnel. This insight drives buy-in across the district, contributing to a 39-percent decrease in energy use across facilities and a recent contract renewal.
Indianapolis Public Schools (IN)
Energy Specialists: Elana Thompson, John Chenoweth, Temo Macias (below)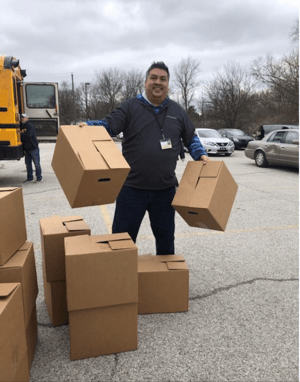 A major urban school district, IPS has achieved overwhelming third-party validation through its Cenergistic partnership. The Energy Specialists run such a tight ship that the district reached its lofty reduction goals for the Better Buildings Challenge well ahead of schedule. As a Department of Energy Program, the Better Buildings Challenge asks organizations to reduce energy use 20 percent over a ten-year period. IPS reached its goal seven years early. To the left, Temo Macias assists IPS schools by delivering meals to students and their families in the early days of COVID-19.
Northwest Florida State College
Energy Specialists: Steven Schroeder, John Rickard
Energy Specialists wear many hats, but their ultimate mission is to improve building health while saving money for our clients. At Northwest Florida State College (NWFSC), the Energy Specialists have optimized controls and equipment across facilities at each campus through regular audits.
As part of this watchdog process, the Energy Specialists pinpointed boiler issues, and the adjustments have helped the college cut energy use by two-thirds. This significant reduction delivered millions of dollars in savings.
Pinellas County Schools (FL)
Energy Specialists: Erika Johnson, Erick Renshaw, Jennifer Cumberbatch, Cindy Bennett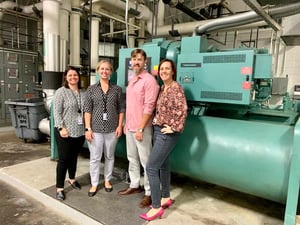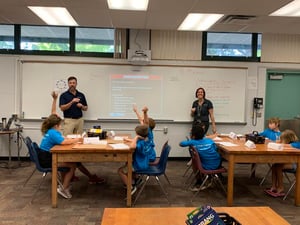 Energy Specialists are not just employees — they're members of the community. The Energy Specialist team at PCS has expanded its energy program through active service to the community.
Energy Specialists have given presentations and coordinated activities with multiple student organizations: the STEM Academy (Feb), Girls in STEM (Mar) and a STEM summer camp (2019). They've also organized conservation competitions among schools — empowering students and teachers to build a culture of sustainability across the district.
To see how Cenergistic can transform your organization beyond energy savings, visit Cenergistic online or call 1-855-798-7779 today.