Podcast: When School's Cut Energy Spending, Teachers Stay, With Tony Erickson
Listen to the latest podcast to hear Tony Erickson on retention rates and what school districts can do to keep their teachers.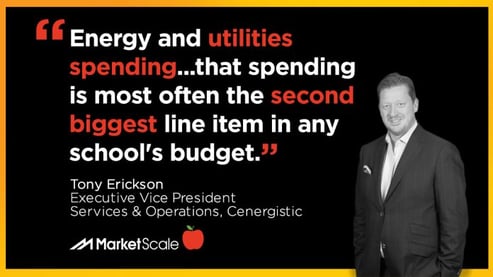 Today, our country is in the midst of an education crisis with teachers quitting their jobs at the fastest rate since the government started collecting this data in 2001. From low pay, political climate, helicopter parents, macroeconomics, and more, teacher retention rates are at their lowest.
According to the Department of Labor, in the first 10 months of 2018, the average exit rate was 83 per 10,000 each month. From small raises to budgetary obstructions to opportunities elsewhere, teachers, even those that have a love for the profession, are rapidly exiting their positions. Further, Learning Policy Institute estimates suggest that just under a third (between 28% and 32.3%) of teachers who leave teaching come back to the classroom within five years. LPI also reports that since 2015, teacher supply has not met the demand, with school districts reporting difficulty in filling open educator slots due to a shortage in qualified teachers. And due to the economics of college debt, universities are seeing a fall in the number of students majoring in education, further reducing the teacher pipeline.
With wages that lag behind jobs in the private sectors, teachers are earning almost 2% less than they did in 1999 and 5% less than their 2009 pay, according to the Department of Education. And per the Census Bureau, this often results in their seeking employment in more profitable sectors, such as healthcare, social assistance or administrative services. And in at least 12 states, public education budgets are down at least 7% from 2009 levels.
Cenergistic is a company dedicated to empowering K-12 schools, universities and municipalities to become more energy efficient, helping them to recover 25% or more in energy costs through energy conservation programs. Today, our MarketScale podcast features Tony Erickson, COO of Cenergistic. While Cenergistic can't control political environments, macroeconomics, or the overprotective, hovering parent, by targeting optimization of electricity, natural gas, fuel oil, and water consumption, Cenergistic can solve client budgetary issues by freeing up budget currently allocated towards energy and utilities spend so that they can be repurposed to their most critical needs. In this particular case, teacher salaries.
"Cenergistic focuses on 3 areas in our brand promise – we focus on what we call the 3 C's: Comfort, creating a comfortable learning environment; Culture, which is to create a culture of sustainability; and Cost, which is ultimately returning cost to the bottom line to portion it out to areas that are in need," said Erickson.
"One of our clients, Pinellas in Florida—Pinellas County schools—they have been using our program for about 3 years now. And our program has helped them save money to where they're able to attract the best and brightest teachers, and they're able to actually pay more competitively than any of the other nearly 40, I think there's 38 counties in Florida. So we are able to help them in creating a very attractive environment to attract and retain teachers, and we're really proud of that. I mean, that's an example where we have been able to really help on the teacher side of the equation."
Want to learn more about how your school district can cut costs on utility spending?