Heroes of Cenergistic: Dr. Jon Myers, Noble Public Schools
Energy Specialists play a crucial role in the success of every Cenergistic energy program. Most are selected from the local community and trained for the rigorous requirements of the position, and many times Energy Specialists already work for the client.
(Related: Insider's Perspective: How Moreno Valley USD's Energy Specialists Saved a Boatload on Water)
Such was the case with Noble Public Schools in Oklahoma. When they partnered with Cenergistic (then Energy Education Inc.®), Dr. Jon Myers, at the time a district administrator (and before earning his doctorate), became the program's Energy Specialist.
Over a decade later, the modest district of 2,800 students has saved over $2.2 million and created a lasting conservation movement across its schools. We spoke with Dr. Myers to get his perspective regarding the success of his program.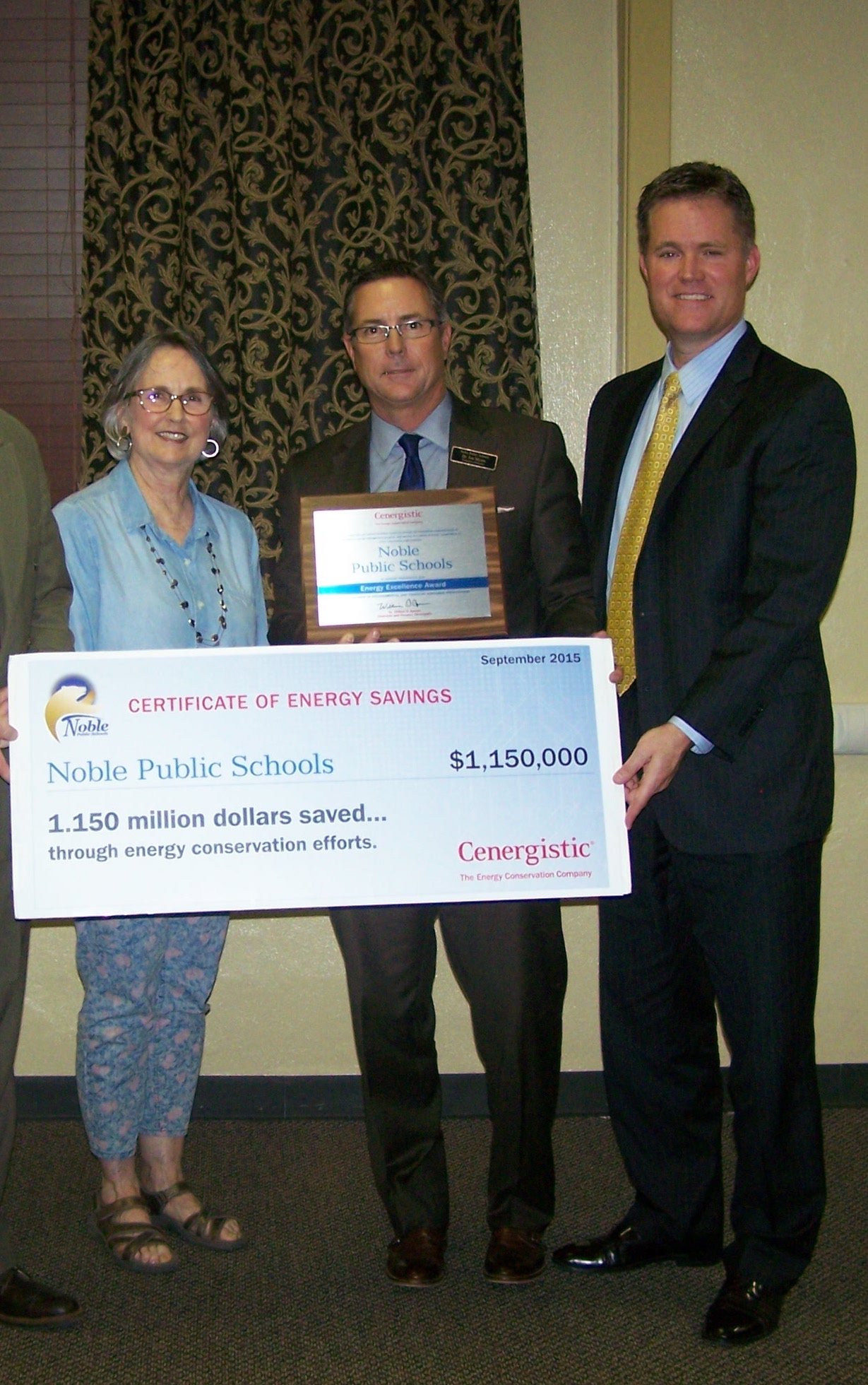 Q1: What did the Energy Specialist role look like when the program began, and were there any major changes over time?
A: First, when Noble Public Schools started the program in July 2009, I was already the district's Curriculum Director. The superintendent at the time knew of my influence and ability to communicate and asked if I would like to "add-on" the Energy Specialist role. I accepted and was sent to Indianapolis for my first ever Energy Education Conference.
While there, I had the pleasure of meeting two of the Energy Leads that would be assigned to me (Dan Kropp and Paul Wilson). I am so honored to have learned under these two guys. The Energy Specialist role took the shape of what Dan and Paul taught me. They wanted me to be visible, be positive, listen and audit the buildings. I continue to do this still to this day.
Q2: What were some of the driving factors behind a decade of energy excellence?
A: First is the stability in the Energy Specialist's position. I have been the Curriculum Director, Executive Director and am currently the Assistant Superintendent. With each of these roles, I still hold the Energy Specialist position. I have a passion for saving the district money and getting employees involved in the program. I have been with the district since 1994 and an administrator since 2001.
We continue to promote the Energy Program at the first day back for all employees, through consistent email communication, and by visibly auditing buildings right at about 4:30 pm — so teachers see the program is still alive and viable. I believe constant communication has also been key. Teachers and students know doing their part is helping the district save money and their colleagues are held accountable across the board.
(Related: Insider's Perspective: How Indianapolis Public Schools Became a National Sustainability Leader)
Q3: What's happened since you completed the initial program term?
A: We started the program in July 2009 and have continued to sustain an efficient program. With some of the savings, we have been able to keep class sizes manageable and certified with support positions filled — and still able to provide a first-rate education to the students of Noble Public Schools. I have made one or two of the National Cenergistic Conferences each year and plan to attend this year's virtually. I continue to audit the buildings and log those in the portal system. We still utilize EnergyCAP® to track our bills and progress, and the district has added new facilities that are monitored as well. We have received the following Cenergistic awards: Energy Pacesetter Award, Environmental Excellence Award and the Energy Excellence Award.
In Spring 2014, I completed my doctorate at the University of Oklahoma. In 2016, I was selected by the Oklahoma State Department of Education as a Lead To Succeed facilitator in the National Institute for School Leadership Executive Development Program. That spring, I received the Outstanding Educator Award from the University of Oklahoma Jeannine E. Rainbolt College of Education.
Since completing my doctorate, I have published and co-published 4 articles for school journals/periodicals (Organizational Learning Theory as a Predictor of Energy Conservation Practices (Journal of School Business Management), What It Takes to Make a 4-Day School Week Work (Education Week), Launching and Sustaining an Energy Conservation Program (District Administration) and Lessons I Learned From My Grandmother (Child Nutrition Executive Updates). In the fall of 2019, I served on a panel for the Oklahoma State School Board Association Conference for an Energy Efficiency Breakout and was asked by Cooperative Council for Oklahoma School Administration to help develop their Energy Efficiency Framework.
Q4: What did you write your doctoral dissertation on?
A: I fell in love with the role of the Energy Specialist and knew that I wanted to write my dissertation on Cenergistic's Transformational Program and how schools benefit from energy conservation programs. With a successful defense, I received my doctorate in April 2014. My dissertation was titled Employee Beliefs Regarding an Energy Management Company's Transformation Program in Developing Energy Efficient Practices in Public Schools. I had the honor to present my findings at Cenergistic's Winter Conference in New Orleans in January 2015.
Q5: Did your position as an Energy Specialist prepare you in any way for your current position?
A: It most definitely did in regard to my doctorate. It allowed me to write about something I am passionate about: the role, the company and energy conservation. The ES role and my training also solidified in me the importance of communication. We must be cognizant of how we talk to people, how we promote agendas/policies, how we listen and how we lead. I am always in awe of what Cenergistic has been able to accomplish with so many schools, universities and other organizations in regard to energy management. It truly is a great company and Noble Public Schools is grateful to them for what they have allowed us to start and sustain.
If you're interested in learning more about how Cenergistic trains its professionals to create more efficient buildings by going above and beyond, contact us today by visiting Cenergistic online or calling 1-855-798-7779.