Insider's Perspective: How One Cenergistic Employee Played a Key Role in Cutting Hazlet Township's Energy Consumption by Over One-Third
---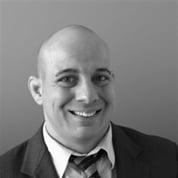 With a student population of just under 3,000, the Hazlet Township Public School District may seem like any other small suburb. However, thanks to the partnership between Hazlet Twp School District and Cenergistic, a nationwide energy sustainability company, districtwide energy consumption per square foot has decreased by 34 percent since December 2017. We talked to Christopher Villa, one of the Cenergistic Energy Specialists who made this transformation possible.
What are some recent steps you took to make Hazlet's energy consumption more efficient?
This summer, I focused on schedules, adjustments, moisture management, equipment issues and HVAC renovation. More recently, I worked with one of the district's Science Supervisors to gain more sustainability in our newly-renovated outdoor science space at Raritan High school. These efforts, and many like them over the past two years, have resulted in several gains in cost avoidances and the growth of our energy conservation program.
How were you able to accomplish this?
One of my goals since starting my position as Hazlet Township Public Schools Energy Specialist was focusing on improving and strengthening our Building Management System (BMS). I am pleased to say we have all eight schools and all HVAC equipment now on the system. Working closely with our partners and Cenergistic, we have been able to submit adjustments and improve our savings trends in all eight buildings.
What are the results of these changes?
We have been able to progress as a district by addressing equipment efficiency, optimizing our BMS functions, managing schedules and improving our district's energy conservation awareness and behaviors. These focused efforts have led to improvements in all our buildings. I believe the improvements are best highlighted by six schools gaining ENERGY STAR® Certification for efficient operation.
What did the collaboration between Hazlet and Cenergistic look like, and why was it so effective?
I have been a part of this program since its beginning, and over time I have worked with many district employees on various projects. I have worked with the district Science Supervisor by providing data and in earning recognition in the Sustainable Jersey program for some of our schools.
I have also worked closely with the Supervisor of Buildings and Grounds during HVAC upgrades for seven out of our eight schools. Some of the things we worked on had to do with equipment, programming and facilities usage. Both the district administration and individual principals have worked with me to promote our conservation efforts and energy guidelines.
What do you like the most about your position?
I enjoy being at the forefront of a growing energy conservation program and take a lot of pride in promoting energy conservation within Hazlet schools. Every day is a new day to win the day and work toward generating new savings for our school district and help contribute to maintaining an optimal learning environment for all of our students.
To find out if a Cenergistic Energy Specialist like Christopher can help your district consume energy more efficiently, contact Cenergistic for more information at 1-855-798-7779 or visit Cenergistic.com.