Insider's Perspective: How Moreno Valley USD's Energy Specialists Saved a Boatload on Water
Cenergistic's bread and butter since 1986 has been delivering energy savings for its customers. However, facilities sometimes don't realize the company also addresses water expenses — expanding the opportunity for further savings.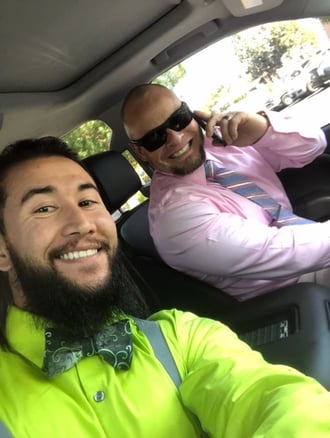 The Energy Specialists for Moreno Valley USD: Thomas Welsh (left) and Tony Gutierrez (right).
Nowhere has the approach to water conservation resulted in more success than at Moreno Valley Unified School District. Two Energy Specialists, Tony Gutierrez and Thomas Welsh, helm an energy program that boasts a 21 percent decrease in energy use.
(Related: Insider's Perspective: How Fort Worth ISD's Four-Day Summer Work Week Led to Extra Energy Savings)
But consider water and the savings go even further. Since 2015, Moreno Valley USD has saved 25 percent on its sewer bills (referring to what goes down sinks and pipes) and 28 percent on its water bills. We talked to Tony and Thomas about how they've created such a wildly effective energy conservation program.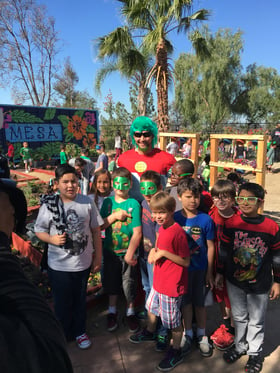 Earth Day 2019: Thomas (dressed as Captain Planet) talks to students about the importance of energy conservation.
Q1: What is the biggest accomplishment of the Moreno Valley USD energy program?
A: Complete behavior change within the district. As each year goes on, more teachers, administrators and staff participate in the program. Since the majority of the staff support the program, they introduce new staff into the fold of the energy program. Getting individuals to adapt to changes becomes easier when the program has changed the whole culture toward conservation.
A: Cenergistic negotiated with Eastern Municipal Water District, a local utility, to sponsor the QWEL training course, conducted at the Moreno Valley USD Maintenance & Operations facility. Half a dozen MVUSD ground and irrigation techs and several Energy Specialists from surrounding districts learned about sustainable landscaping practices and earned the certificate.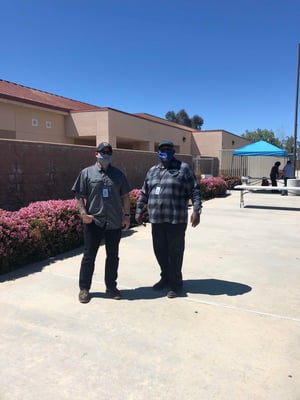 Tony and Thomas remain committed to protecting facilities and optimizing equipment, even during the COVID-19 outbreak.
Q3: How does this additional certification complement the training you received from Cenergistic?
A: QWEL training supports the role Energy Specialists perform in the district by giving us additional guidelines to follow — ensuring our clients use all the water or energy they need, but no more. This is a state standard and it fits the work we are doing within Moreno Valley USD — eliminating wasteful water use and making sure we apply the correct amount of water per field site.
QWEL training equipped us with knowledge and facts to support the ultimate mission of our partnership with the district — energy conservation. If there is a problem with a site's field, we can always revert back to QWEL standards first and test the site, then make the proper changes to the irrigation schedule. It's an added layer of training that furthers our ability to find utility savings.
Q4: What tactics have you used to reach 28 percent savings in water expenses?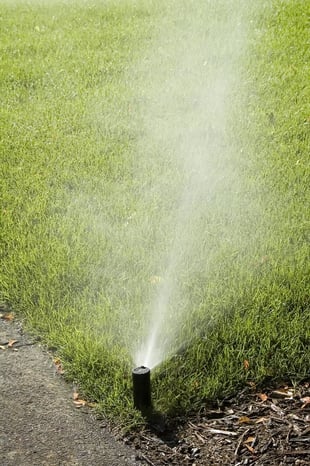 A: We draw up water budget sheets that get worked into weekly schedules the irrigation techs use. We will get a new water budget from the district and utility, and we break this down to all the sites, resulting in a new water budget for the week. This has allowed us to see the daily use and prevent any site from going over budget.
We flag all sites that consume too much water, and the tech either cuts down water use for the remainder of the month or limits water use to priority turf.
QWEL training helps in this approach. We test everything from overused fields to unused turf and find proper watering windows for each. During some of these onsite tests, we have found overwatering or inefficient practices and address each problem. These are key items we look for when seeking ways to minimize the waste of water. Constant communication with irrigation teams and facility leads help drive the program.
Seeing the water use week by week has been helpful for the Energy Specialists because we can drive the best performance for the fields while still keeping within the watering standards of the district and the state, set to minimize the impact of future droughts.
Q5: What role does the Cenergistic GreenX™ app play in your water savings?
A: GreenX helps when looking at the overall picture. We are able to track sites month by month and see trends for the best- and worst-performing sites. We use this as a checks and balance for the program — we correct any issues to drive further energy and water savings. With the use of so many tools, there are multiple options to drive the changes we can control.


If you're interested in learning more about how Cenergistic goes above and beyond to deliver the utmost utility savings, contact us today by visiting Cenergistic online or calling 1-855-798-7779.