Insider's Perspective: How Top-Down Support Helped Mansfield ISD's Energy Program Succeed
Every Cenergistic client saves a considerable sum of money, but some take extra steps to further realize savings and build a culture of sustainability among students, staff and the community. Among our most successful clients is Mansfield ISD (TX), who in 2012 partnered with Cenergistic to begin an energy conservation program.
What started as a partnership to save utility costs across the district grew into a much larger movement, as students, teachers and the community felt empowered to contribute wherever possible. Over time, Mansfield ISD has amassed over $10.4 million in savings, a strong social media presence devoted to energy conservation and extensive third-party recognition.
(Related: Insider's Perspective: Fall Harvest for Iona College Yields 70 Free Thermostats, Thanks to Efforts of Cenergistic Energy Specialist)
Recently featured in The International Journal of Energy Management, Mansfield ISD's energy program has achieved a significant impact on both the environment and budget. We talked with Kelly Campbell, Energy Specialist for Mansfield ISD, about the success of the program.
What role do you currently serve for MISD?
For almost eight years, I've served as an Energy Conservation Specialist for Mansfield ISD. Before that, I served the students and staff as a teacher and a campus principal.
How did the Cenergistic energy program complement other MISD conservation efforts?
Before Cenergistic entered the picture, the district's Maintenance Director had been making strides towards conservation by performing preventative maintenance and through monitoring utility usage. However, a truly effective conservation program requires more direct attention than could be afforded at the time. The partnership with Cenergistic brought with it engineering expertise, Measurement & Verification support and training for [Energy] Specialists.
How were you able to get students and staff to buy into the program?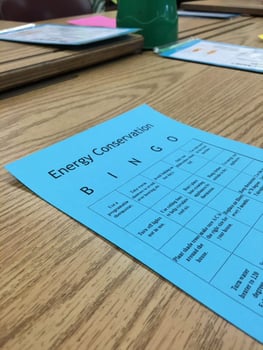 It starts with VERY public support from the top tiers of management: our Superintendent and Board of Trustees have come out publicly about the good that this program does for the district. Once that support is broadcast to (at least) the organization, it gains a higher-level of instant credibility. After that, it was about selling people on the benefits of the program that comes from everyone making small changes in their daily behavior. Additionally, it requires being willing to listen to the concerns of those who are directly impacted by scheduling and mechanical changes.
From the very beginning, we started the school year with meetings with different groups across the district (custodial, faculties, kitchen managers, etc.) to promote the idea that everyone is involved in a program like this and that it takes everyone playing a role to make it successful.
What advice do you have for other energy programs to receive this level of support?
Constantly sell the good that the program is doing for all stakeholders, and not just in dollars but also in environmental benefits; there are folks in every locale who prefer the green of the trees over the green of the dollars. Also, don't forget that behavioral change takes the longest to secure, so don't be rattled when everyone doesn't join in on the fun right away.
How has MISD received recognition for its energy program?
Mansfield ISD has been recognized by the EPA's ENERGY STAR® division each of the last six years as a "Partner of the Year," and the last four of those years at the "Sustained Excellence" level. There are only eight school districts in the country who have earned that distinction, and we're the only one in the state of Texas to earn that achievement.
Additionally, the Texas Commission on Environmental Quality (TCEQ) awarded the 2017 Environmental Excellence Award to Mansfield ISD in the category of Innovative Management/Practices. We're the first school district in the award's 25-year history to win in that category.
The accomplishments listed above only scratch the surface of Mansfield ISD's conservation efforts. Each Energy Specialist completes about 1,200 audits each year, checking for inefficiencies and looking for ways to optimize energy consumption.
At the district level, the Energy Specialists have coordinated with administrators to develop energy efficiency lessons for students, incentive contests for schools and clubs for students and teachers — all to promote energy awareness and conservation.
Notably, Mansfield ISD developed an ingenious way to spread public awareness of the energy program. Through a series of email blasts to faculty and staff, relationships with local and districtwide publications and even a Twitter account dedicated solely to the energy program, Mansfield ISD updates stakeholders on the success of the program through largely inexpensive methods.
These kids are our next generation @Energy leaders! Great job and keep up the hard work! https://t.co/uloTLSDQkL

— Rick Perry (@SecretaryPerry) September 20, 2017
When MISD began its energy program, annual utility costs totaled over $7.1 million. Energy conservation measures have become so pronounced that MISD spent only $6.3 million in the most recent fiscal year — despite adding over 750,000 square feet of space to the district over that time.
Find out how your organization can also achieve substantial savings by visiting Cenergistic online or calling 1-855-798-7779 today.