Insider's Perspective: How Fort Worth ISD's Four-Day Summer Work Week Led to Extra Energy Savings
With class out of session, summer is prime time to roll back energy use in the K-12 world. In the summer of 2019, Fort Worth ISD (FWISD) took it a step further, instituting a mandatory four-day workweek across the district. The results: an additional 17 percent decrease in energy usage across the district.
To get the full picture, we talked to Melissa Hatton, Sharon Bittner, Ashton Whitley, Kenneth Buchholz and David McAfee, the Cenergistic Energy Specialist team for FWISD.
(Related: Insider's Perspective: How Top-Down Support Helped Mansfield ISD's Energy Program Succeed)
Where did the idea for a four-day summer workweek come from?
It was brought up by FWISD, and our Energy Specialist team supported it. FWISD Superintendent Dr. Kent Scribner previously had success with the four-day workweek recommended by Cenergistic while serving as the Superintendent of Cenergistic client Phoenix Union High School District. The Superintendent's Office put out a memorandum to all FWISD employees stating the four-day summer workweek will begin Monday, June 3 and run until Friday, August 2, 2019.
How did you collaborate with FWISD to implement the program?
We utilized the company's deep experience in implementing this initiative at other clients to develop an implementation plan over the course of multiple meetings with leadership, and we worked to support and reinforce district communications regarding the transition to the four-day workweek. We also worked closely with the CustodiaL Area Directors to ensure that appropriate comfort was provided while custodial cleaning was being conducted.
How did buildings save energy on the extra day off?
Except for offices and previously coordinated spaces, the campuses were set back to settings for unoccupied times on Fridays. This allowed the buildings to save on energy since the unoccupied setpoints are typically 55 degrees for heating months and 85 degrees for the cooling months.
If the building was on the traditional schedule of Monday-Friday, the campus would have had occupied setpoints for an extra day. Therefore, the HVAC for each campus ran significantly less during the unoccupied timeframe on Fridays, maintaining unoccupied setpoints in the buildings and decreasing use.
How successful was the four-day program?
Over the course of Summer 2019, districtwide electricity consumption decreased by 17 percent compared to Summer 2018.
June 4 – Aug 1, 2018 Total Consumption 14,202,755 Kilowatt Hours
June 4 – Aug 1, 2019 Total Consumption 11,805,578 Kilowatt Hours
Difference: 2,397,277 Kilowatt Hours avoided
Next summer promises even more savings, as facility teams and the Energy Specialists now have a summer of experience under our belts.
What was the X Factor in the program's success?
The X Factor in the program's success was communication and coordination with Area Directors to facilitate custodial "zone cleaning" and custodial work week expectations. The Energy Specialists worked closely with the Directors and suggested that all "interior" custodial tasks and duties take place Monday-Thursday (when the HVAC was in an occupied status for summer school hours).
Then, when the building was to be unoccupied on Fridays, the custodians conduct the "outside" custodial tasks such as lawn care, grounds cleaning, etc.
How did FWISD react to the four-day program?
It affected staff groups in different ways. While the Operations side faced planning opportunities, most staff groups and students were excited to have a three-day weekend during the summer months, allowing them to spend more time with their families.
What other steps have you taken to reduce FWISD's energy consumption?
The energy program at FWISD has been largely relationship-driven. We have worked diligently to build trust and credibility with all functional groups and individuals. We rely heavily on our engineering team and the district's maintenance and operations team to optimize buildings and equipment, and we have worked to maintain a forward presence with leadership. Our latest effort is to create a sustainability campaign that will take the program to the next level and incorporate student engagement.
Additional Four-Day Workweek Benefits
In addition to the financial savings of a four-day summer workweek, reducing energy use provides many benefits to the environment and community. Taking an extra day off from work or school results in fewer cars on the road, easing traffic for others and preventing unnecessary carbon emissions.
Above all, FWISD and Cenergistic made sure to prioritize what's most important — student learning. Because the district moved to 10-hour days, student learning time was not affected by the shift to a four-day summer workweek.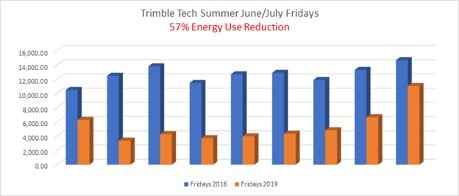 To the left is an example of the decrease in electricity use during the four-day summer workweek model at one FWISD high school campus. Each campus will reflect similar trends.
The Four-Day Summer Workweek Is a Microcosm of the FWISD Energy Program
Before partnering with Cenergistic, FWISD had a significant problem with energy costs. Enrollment growth over the years led to annual energy costs in excess of $19.1 million, and the district was looking to expand its square footage. Since partnering with Cenergistic, annual energy use has decreased 19 percent, and the district has earned 211 ENERGY STAR® certifications — the second-largest number for school districts in Texas. This transformed FWISD from cost-leader to an energy conservation leader in nationwide K-12 schools.
The success of the Fort Worth program are an outcome of comprehensive programs to handle comfort complaints, rigorous building audits, our technology and engineering platform and the individual efforts of the Energy Specialists. Daily energy audits and walk-throughs continuously evaluate district-wide energy use, and data analytics track use and spending. As a result, the district understands where it can achieve additional savings.
The savings results at FWISD are not just for large districts. Even though the district has a vast campus boundary, similar savings are possible at districts of various sizes. Find out more about how your district can find savings similar to Fort Worth ISD by visiting Cenergistic online or calling 1-855-798-7779 today.