Insider's Perspective: How Indianapolis Public Schools Became a National Sustainability Leader
Indianapolis Public Schools serves more than 33,000 students in 70 unique schools and programs, with 4,500 staff members. IPS, like many other large urban districts, found itself in a budget deficit due to decreased taxpayer funding. Additional funding was also needed to offset a significant enrollment increase and to properly sustain key academic models launched throughout the district.
(Related: Insider's Perspective: How Moreno Valley USD's Energy Specialists Saved a Boatload on Water)
This decrease in funding resulted in a lack of supplies, outdated equipment and technology, and freezes to teacher hiring and salaries. An expected hike in utility rates from Indianapolis Power and Light convinced IPS administrators to take action.
"As a district, our goal is to make sure we have excellent learning environments for our students, so that they can excel," said Aleesia Johnson, IPS Superintendent. "With Cenergistic, the partnership that we have gives us the opportunity to push more dollars to the classroom while not sacrificing the comfort that we know our students need to be able to do their best learning."
Commitment to Sustainability
The most straightforward promise from a Cenergistic partnership is the idea of better budgeting. Cenergistic's software package — including Cenergistic GreenX®, Cenergistic Predict® and Cenergistic Simulate® — in the hands of multiple onsite Energy Specialists paid for by Cenergistic provides real-time visibility into energy use patterns and opportunities for savings.
The district signed a five-year contract with Cenergistic on June 1, 2018. In addition to their in-place effective energy management efforts, Indianapolis Public Schools was looking for additional ways to conserve energy — and in the process became a national leader in sustainability.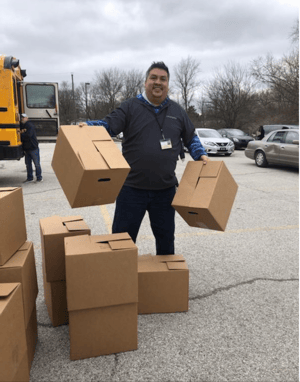 Cenergistic Energy Specialist Temo Macias delivers food to IPS students and their families after schools shut down due to COVID-19.
According to Elana Thompson, one of three Cenergistic Energy Specialists for IPS, the team targeted some of the least efficient schools across IPS and combined system modifications with encouraged behavioral changes to maximize savings.
"We understand the importance of knowing our buildings and communicating their needs to our stakeholders," said Thompson. To do this, the Energy Specialist team enlisted the help of custodians, principals, teachers and nutrition services members at each school to help reduce energy consumption where they're able to.
This coordination has led to a 26 percent decrease in energy use across all IPS schools, but IPS' commitment to sustainability didn't stop there.
In 2016, IPS signed up for the Better Buildings Challenge, a nationwide initiative sponsored by the U.S. Department of Energy designed to encourage organizations to significantly reduce energy consumption. Organizations set ambitious reduction goals, with achievers gaining nationwide recognition. IPS aimed for a 20 percent reduction by 2026, and this commitment to sustainable energy consumption played a role in the decision to partner with Cenergistic.
(Related: What Is the Better Buildings Challenge, and How Can Your Facilities Receive Recognition?)
Partnerships with Energizing Indiana, an organization specializing in solar panel installation training, and Leadership in Energy and Environmental Design (LEED) have furthered the district's efforts to reduce waste through renewable energy sources and districtwide retrofits. Through the first year of a rebate program with Indianapolis Power and Light, IPS received $335,000 for its districtwide energy reduction.
The Benefits Are Simply Astounding — Saving $6.2M in Less Than Two Years
Through a meticulous and comprehensive approach, Indianapolis Public Schools met its goal to alleviate the burden of a planned utility rate increase. In fact, the energy program exceeded expectations. In the first year of the partnership, IPS ended up spending less on utilities than the year before, despite the rate increase.
Keeping with the theme of surpassed expectations, IPS has completed its Better Buildings Challenge goal a full six years early. This sets IPS apart from its regional peers and elevates the district to a national leader in sustainability.
"The first thing that stands out in our relationship with Cenergistic is the amount of energy that we've saved," said Scott Martin, IPS Chief Operations Officer. "Through our relationship with Cenergistic, we're going to double the initial estimate [of energy savings for the Better Buildings Challenge]."
In the months since COVID-19 forced IPS to close its schools, Cenergistic continues to bring value to IPS and the surrounding community. The Energy Specialist team has continued to monitor facility equipment and systems, albeit largely from a remote posture. On multiple occasions, members of the Cenergistic team have volunteered to aid with meal services for students and families.
Our Energy Specialists continue to provide for their communities in these uncertain times. Pictured below, the @IPSSchools team of Temo Macias and Elana Thompson deliver food to students and their families. #CenergisticCares pic.twitter.com/iYazRc8MiV

— Cenergistic® (@Cenergistic) April 16, 2020
"We believe we have created a solid foundation for success and know there is still plenty of opportunity," said Thompson. "The team's goal is to continue doing the things that we have been doing while strengthening communication and teamwork to further increase savings."
This program has already found significant savings, and it's still on the upswing. Find out how your organization can achieve similar results by visiting Cenergistic online or calling 1-855-798-7779 today.