How Should Organizations Switch to Renewable Energy? The Energy Pyramid Lays It Out
---
The fiscal and environmental attraction of renewable energy has led many organizations across the country to install solar- and wind-based infrastructure to meet facility needs. Even after investing in renewable energy, however, organizations should know they may still be leaving money on the table.
According to Dr. Dennis Buffington, P.E., C.E.M., C.B.E., of Penn State University, the best approach to optimizing energy management comes via the pyramidal layering of operational practices. Contrary to recent popular belief, renewable energy makes up the peak of this pyramid, rather than the base. Only after focusing on energy conservation, energy efficiency and demand management will facilities recognize the full benefits of switching some of their purchased electricity needs to renewables.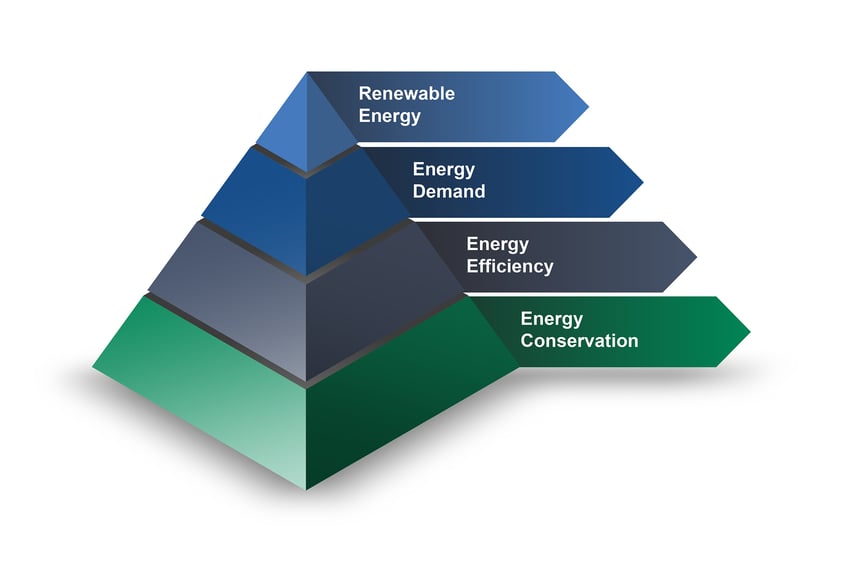 The base of the Energy Pyramid concentrates on energy conservation practices. Behavioral changes across an organization pave the way to optimized energy usage as facilities learn to cut wasteful habits and consume energy only when it adds value to the mission of the organization.
Energy conservation should involve every individual — maintenance/operations staff, custodial teams, administrators, executives and patrons — to lower dependence on energy through a variety of methods. Proper conservation practices offer the greatest savings and lowest costs of all the pyramid stages.
Staff members should diligently ensure equipment runs only when needed and without wasting energy. All systems should be optimized and properly scheduled. These practices lessen the burden on equipment, resulting in a longer lifespan with fewer maintenance costs or replacement investments.
Is your organization thinking about implementing its own energy conservation program? Click here to compare the average DIY conservation program to Cenergistic's years of experience and proven success.
Once an organization has enacted this crucial first step, energy efficiency upgrades can now take place — and because the organization is using less energy than before adopting conservation practices, upgrades can be delayed or may require smaller equipment and so reduce capital expense. This stage focuses on purchasing and installing equipment that consumes less energy than the equipment it replaces.
Retrofitted equipment generally requires less energy to produce the same desired result, which reduces the amount of energy needed to run facilities at occupied hours. While some projects may have pricey up-front costs, well-scoped project savings should cover expenses over the long run.
During the penultimate stage, demand management, facilities find ways to shift as much energy consumption as possible to "off-peak hours" where the grid historically sees less demand and incremental rates may be lower. Utility providers may offer a reduced rate during off-peak hours in an effort to drive more business, and savvy facility managers can take advantage. Conversely, facilities that have higher use during peak hours pay a premium for energy use. The Demand stage is not about using less or cleaner energy, but carefully monitoring energy demand schedules and staging consumption demand patterns to further save money.
To reap the full benefits of renewable power, organizations should first address the three initial stages of the Energy Pyramid. Implementing renewable energy sources alone does not address energy or budgetary waste — the four stages of the Energy Pyramid work best in proper progression to create an energy-conscious and financially shrewd organization.
Organizations that have reduced dependence on energy while mastering the art of manipulating utility costs require less infrastructure to meet facility demands, saving money in both short-term installation expenses and long-term maintenance costs.
If your organization is looking to minimize the money spent on utilities, make sure you take the time to get things right. To read more about the Energy Pyramid, download our white paper below.
Help your organization build a sturdy foundation for its Energy Pyramid through the energy conservation experts at Cenergistic. Our comprehensive energy programs have saved clients over $5.6 billion — we've partnered with over 1,450 organizations to date. Contact Cenergistic online today or call 1-855-798-7779.