Does Energy Conservation in Municipalities Benefit Residents? Six Reasons How
---
In 2015, the United Nations laid out a vision for the future — greater sustainability and accessibility for cities across the world by 2030. Half of that initiative — sustainability — intersects with a growing demand for cities to substantially reduce their carbon footprints by the end of the new decade. Energy conservation in municipalities tends to focus on how individuals and corporations consume resources — making cities across the U.S. among the best-equipped to take on the challenges of conservation.
For energy conservation to take hold, more small towns and municipalities need to think beyond current plans and build community support for the changes necessary to create a sustainable city. Though these actions may present a challenge, the benefits of energy conservation in municipalities are significant — and clearly worth some effort. Consider six reasons why your municipality should adopt energy conservation policies:
1. Improved Quality of Life
The primary benefit of a sustainable city is its impact on quality of life for residents and businesses. Environmental and conservation initiatives that optimize facility equipment and reduce the aggregate carbon footprint of residents prioritize people and functionality, not just appearance. Initiatives like efficient public transportation services, digitized government services and recordkeeping, upgraded building standards and smart parking apps make life more accessible while maintaining sustainability goals.
2. Economic Benefits
Quality of life improvements lead directly to economic benefits. A more accessible city encourages people to reconnect with the outdoors, walk more, drive less and explore local businesses. Population growth attracts new businesses, pouring more money into the area through employees and encouraging even more growth. Robust growth reinvigorates struggling neighborhoods and stimulates the local economy.
3. Resident Connectivity
Remember the fundamental purpose of a city — a gathering point where people live, work and find recreation. With programs that foster energy conservation, municipalities connect communities through a common cause and encourage residents to proactively tend to the environment around them.
4. Efficiency Gains
Sustainable cities have the added benefit of higher efficiency. Fully optimized and maintained equipment does not draw extra energy to fulfill demand. Improved system schedules don't wastefully power facilities overnight. Decreasing energy dependence limits facility waste and promotes sustainability among staff.
Coming advances in energy management technology will make sustainable devices increasingly accessible to municipal facilities. These devices will increase system efficiency and draw upon renewable sources, decreasing energy dependence.
5. Cleaner Environment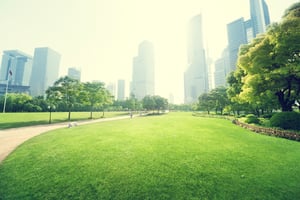 Improving operational practices through smart systems has a significant impact ­— reducing the city's contribution to climate change. Meanwhile, municipalities can implement recycling and reclamation programs to complement facility energy conservation programs — increasing the scope of sustainability to all aspects of the city. Better operations, pollution and waste decrease, contribute to an attractive, inviting city.
6. Conserving Funds
Saving significant dollars — by avoiding costs through changes that lower operating expenses without major investments — delivers lasting benefits for sustainable cities. Implementing energy conservation in municipalities prevents unnecessary expense from excess consumption while investing in practices and upgrades that save future costs by preventing excess consumption. Savvy city building managers use such programs to extend asset and building life expectancy.
Take the First Steps Toward Energy Conservation in Your Municipality with Cenergistic
The future of successful local governments depends on comprehensive, sustainable solutions to energy consumption. Find out how your city can implement an energy conservation program and prepare for a sustainable future by visiting Cenergistic online or calling 1-855-798-7779 today.