Energy Conservation 101: What We Do, How We Do It, and Why it Matters
Cenergistic is dedicated to helping clients understand how energy is consumed and how to minimize waste — which, oftentimes, is synonymous with saving clients' money.
To better understand how we achieve this, and some of our results, let us break it down:
The Methodology
We are an energy conservation company, meaning our top priority is to help you reduce energy consumption and utility costs while operating healthier buildings. But why focus on conservation over investing in renewables or more efficient energy technology?
Renewable energy is a great option for limiting your operation's impact on the environment but adopting solar — or even wind-derived power — comes with hefty upfront costs. It is also only impactful if you've already taken foundational steps to find energy efficiencies with existing systems and pivot energy demand to off-peak hours. As such, starting an energy efficiency program by implementing renewable energy won't generate meaningful results.
Instead, Cenergistic takes the Energy Pyramid approach to energy efficiency. In short, the pyramid demonstrates that the best approach to optimizing energy management is by layering operational approaches, moving from energy conservation to efficiency to demand management, and then, ultimately, renewables. In other words: walk first, then run. (If you are interested in learning more about the Energy Pyramid, you can read more here.)
What We Do
When it comes to implementing energy conservation methods, we take a dual approach: pairing proprietary technology with on-the-ground Energy Specialists. This way, we're utilizing data and on-site resources to help our clients understand their energy use and then immediately implement change.
For example, if one wing of a school building is running at a higher temperature than normal, our experts work to identify and fix the issue as soon as it's flagged as an anomaly. These inefficiencies may not seem significant in the moment but catching all the small anomalies over time adds up to make a big difference.
But how are savings actually calculated? Throughout the industry, it starts with your monthly utility bills from a base year preceding the start of the energy program. We account for activities like weather, energy efficiencies already installed, or operational costs that result from growth — for example, adding new buildings or additional square footage. That tells us how much energy you would have used had you not made the effort to save energy. The current rates applied to the reduced consumption equals your savings.
Curious to understand our results in action? This infographic highlights just some of the successes we've had with clients across the nation: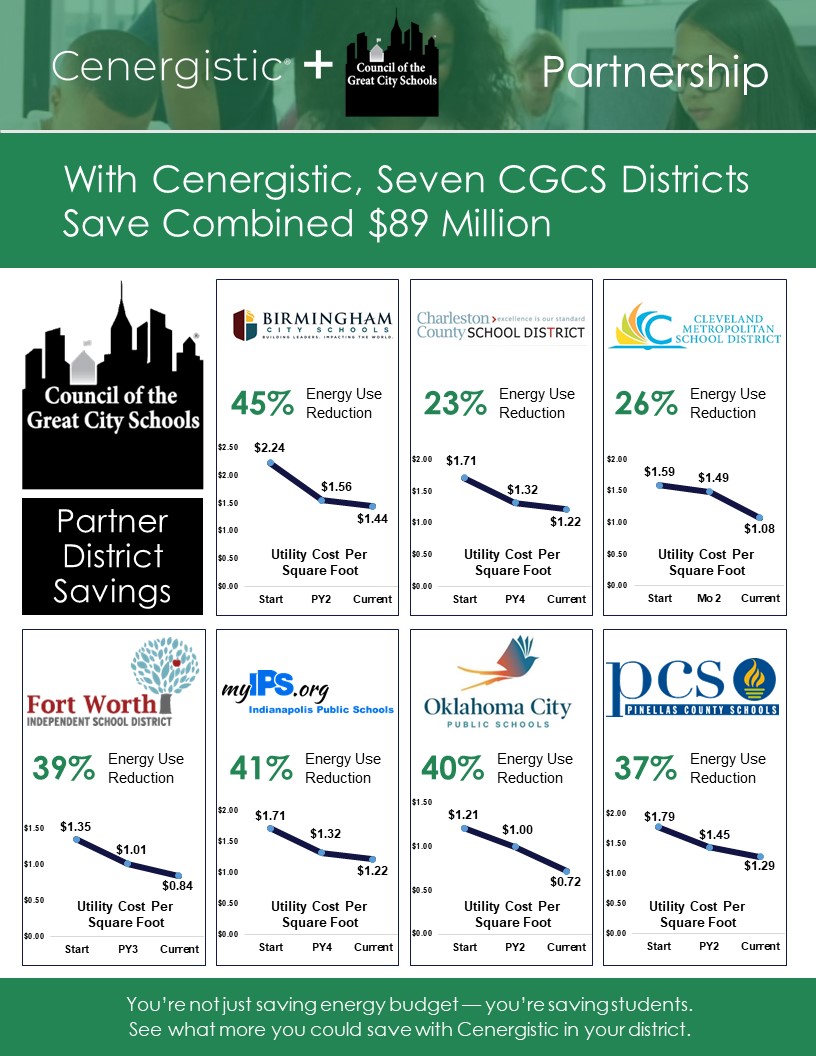 The best part about these results is that our clients aren't just saving money — they're also investing in their communities, students, teachers and staff. Healthier buildings provide better learning environments. Money saved via energy management programs can be re-invested back into the organization, funding various programs that directly benefit the population such as teacher's salaries or STEAM programs.
And, it's not just us saying schools are doing a good job: Our clients have earned more than 12,350 ENERGY STAR® Certifications for healthier, more efficient buildings. Moreover, Cenergistic clients are introduced to a culture of sustainability and have reported finding themselves making more sustainable choices in their own homes and everyday lives.
Learn More
At the end of the day, we want to use our 35+ years of experience in energy conservation to help you save money and create a more sustainable, healthier environment for students, staff and administrators in your buildings, whether K12, higher education, municipality or health care.
To find out more about how Cenergistic can cut your organization's energy consumption by 20–30 percent, visit Cenergistic online or call 1-855-798-7779.