COVID-19 Lockdown Impact on Energy Use
Cenergistic client sees 50%+ electricity reductions in first months of the 2020 lockdown.
By Jay Kim, CEM, CMVP, Cenergistic Consultant
I read with interest a recent article from EVO-World about the impact of COVID-19 on measuring energy reduction.
Does anyone remember — or want to remember — the great COVID Lockdown of 2020? As an Energy Manager at a school district in Southern California, I remember being told we were going to work from home because schools were going to close and transition to online learning. Our school district immediately turned into a ghost town — along with thousands of schools across the country.
Energy use transitioned from the workplace to the home.
How much energy did schools save during the lockdown closures? Why did some organizations perform better than others? How much money did they save?
Energy Saved
The overall demand for electricity decreased by 9 to 13% in March and April 2020 in the United States alone. Energy use in Italy and Spain decreased by more than 15% initially due to strict lockdowns.
Figure 1 EVO World: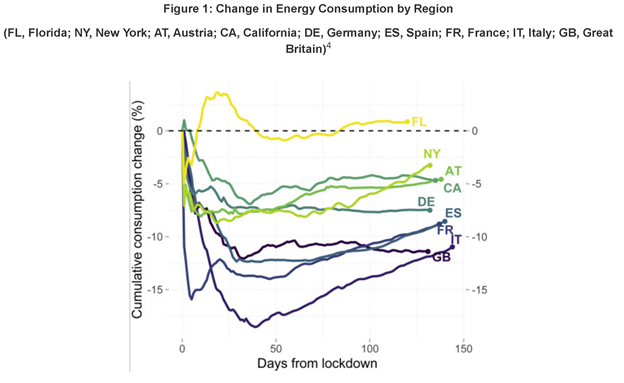 What about energy use in schools?
Most schools across the country were completely closed with only a few people on campus — generally security or maintenance personnel. Within a few months, we began to see some administrators and teachers who taught classes virtually from their classrooms.
We now have data to show how much energy was saved during this period.
The chart below shows energy use for a random sampling of school buildings from the Midwest.
Schools, shown in grey, had a significant reduction. This study shows, for example 30% decrease in weekdays, 10% in weekends. That's a weighted average of 24%.
Figure 2: EVO World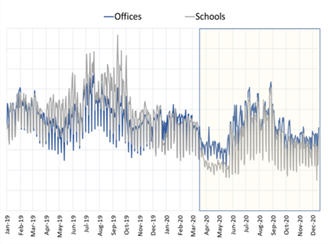 But Cenergistic clients have done even better. One of our Midwest clients cut electricity consumption more than 50% during the first two months of the lockdown alone. With assistance from a dedicated Cenergistic Energy Specialist backed by licensed engineers, conservation experts and the Cenergistic GreenX® software platform, our clients were able to actively manage buildings for energy conservation and proper ventilation.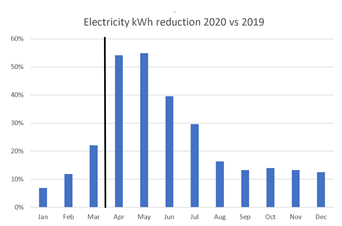 Is saving energy more than just turning off the lights? What's the secret? Active Energy Management
Why did Cenergistic clients tend to experience greater success?
Challenges most districts face:
Complex Building Controls: Schools have an array of building controls (generally installed by the lowest bidder) ranging from antiquated thermostats to state-of-the-art Building Automation Systems and Energy Management Systems. This is often paired with complex mechanical equipment ranging from large boilers and chillers to multi-zone air handlers that require engineering expertise to operate optimally.
Lack Of Energy Expertise: Because of the amount of funding schools receive, they are bombarded with predatory vendors who may try to sell them equipment and services they may not need or that does not integrate with their existing systems. Additionally, many schools have renewable energy onsite in the form of solar and/or battery storage with complex contract terms that must be considered, especially during low energy use periods. Electricity rate structures are more complicated than ever, focusing on time-of-use rates and peak demand charges, and other fees unrelated to cost per energy unit.
Complex Decision-Making Process: School organizations often have unique political dynamics across several layers of management. Decisions often take a long time or "die on the vine" from paralysis-analysis. Do school organizations have energy or sustainability goals? Who has time or the energy to implement these goals and track progress? The decision-making process about energy issues is challenging because they are often made by personnel who do not understand how energy is used in their organization. This requires data analysis and on-site verification.
The Cenergistic Solution
Before the lockdown, throughout and since, Cenergistic's process of Opti-Commissioning® includes a focused effort on ensuring proper ventilation while optimizing systems and schedules so clients can enjoy healthier, more efficient buildings. Our engineers have stayed abreast of the changes in CDC and ASHRAE guidelines and presented white papers with guidance for clients. We were able to quickly adjust schedules and system settings for effective setback of buildings as well as the welcome return to occupancy. We met the challenges that often stymie do-in-yourself conservation efforts.
Cenergistic employs building control experts — We've worked in more than 25,000 buildings across the nation, the oldest and the newest, on every known system. We've helped clients solve long-standing problems that even the installation contractors haven't been able to fix. With a philosophy of "fix it once" we get to the root of problem for long-term solutions.
Cenergistic experts have range of expertise — Our roster of licensed engineers and energy professionals have a variety of energy-management-related certifications and a depth and breadth of training few, if any, other organizations can match.
Cenergistic focuses on operating healthier, more efficient buildings — Our experts address thousands of potential energy conservation opportunities in every building and keep one focus: operating efficiently while ensuring comfort for classtime and scheduled activities. We work first on comfort, as we find that most comfort issues are a result of equipment or scheduling malfunctions. We couple our expertise with the Cenergistic GreenX® software platform to measure energy use, develop alerts for potential issues or savings opportunities and report to clients. We work collaboratively with our client facility staff members, educating, training, and assisting them to excel.
How much energy was saved during the lockdown?
Cenergistic clients across the country reduced enough electricity in April and May 2020 to reduce greenhouse gasses by 227,006 metric tons. The figures below show the environmental impacts of our efforts in equivalents to greenhouse gas emissions prevented: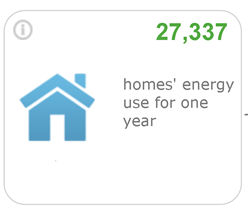 Conclusion
Now with schools fully reopened, indoor air quality and proper ventilation are hot topics. CDC and ASHRAE have updated ventilation guidelines throughout the pandemic. It is recommended that higher-rated HVAC filters be installed as well as more outside air be brought into the classroom to prevent the spread of airborne diseases. This may cause mechanical issues as many older HVAC units cannot function properly under these new conditions. It is estimated these changes may cause 10% to 40% increase in energy use without any the guidance of energy engineers. That's why Cenergistic is now offering Healthier Building Services. This assessment ensures optimal building operation and provides action items for HVAC system repairs and adjustments.
As your trusted energy partner, Cenergistic continues to lead the way in helping our clients achieve maximum energy potential. With 35 years, 1,500+ clients, $6.2 billion in savings, more than 13,000 ENERGY STAR® recognitions for clients and 13 straight years of ENERGY STAR Partner of the Year or Partner of the Year – Sustained Excellence Awards, we can help you operate healthier, more efficient buildings. Call on us today. We'll be glad to explore possibilities.