Insider's Perspective: Fall Harvest for Iona College Yields 70 Free Smart Thermostats, Thanks to Efforts of Cenergistic Energy Specialist
---
Thanksgiving is a time for gratitude, reflection, family and football. Even though students have time off and educational facilities across the country shut down for the week, Cenergistic's quest to reduce client energy consumption does not rest.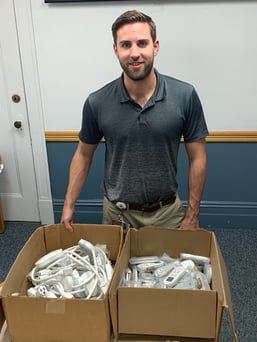 The Energy Specialist at Iona College, Thomas Van Wert, is especially thankful this holiday season after receiving 70 free smart thermostats for use across campus facilities. The thermostats, which are controllable via Wi-Fi, should be fully implemented by summer 2020.
We talked with Thomas to get the full scoop on this exciting opportunity and how the thermostats will contribute to Iona College's successful energy program.
What did you do to receive the 70 Wi-Fi smart thermostats?
Con Edison, the electricity provider in the region, teamed up with Think Eco, a green technology company, in a rebate program offering smart thermostats to customers. The program offers up to four smartAC kits per account, but I was able to work out a deal for 70, as they are trying to distribute as many of these as possible to increase energy efficiency in the region. Next spring, there is a possibility we can order even more.
How will these thermostats reduce Iona's energy consumption?
Air conditioners being left on in classrooms is a major problem across campus in warmer weather. The smartAC kit connects any window AC to Wi-Fi, serving as a smart thermostat. This creates the ability to program optimized schedules and set temperature points through an app and on its website, which will help solve the problem of the AC units being left on 24/7 and wasting energy. In some buildings that rely entirely on window AC units for cooling, this could reduce summer electric consumption by half.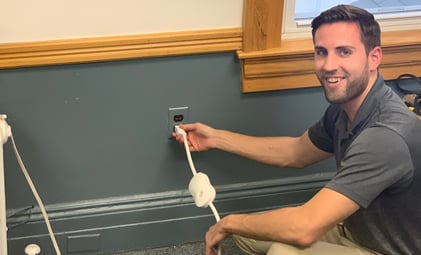 Where will the thermostats be positioned, and when will they be implemented?
The smartAC thermostats will be used in classrooms, offices and common spaces around campus. The ACs will automatically turn on and off, based on the occupancy schedule or when the desired set point is reached. The kit also comes with a remote, which can power the system on and off during unscheduled periods and adjust temperature when needed. During the fall, I installed approximately 25 kits as a test. Due to our overwhelming success, I will install the rest this spring. I am also looking at using these with other equipment — such as exhaust fans — which will give me the ability to put these energy-users on optimized schedules.
Who is eligible for smart AC kits, and how can more organizations receive their share?
Customers of Con Ed in New York City and surrounding areas are eligible for this program. Think Eco has also teamed up with National Grid in the past, which serves parts of upstate New York and New England. Organizations can ask their utility company if they are eligible for the program.
What other steps have you taken to reduce Iona's energy consumption?
The main focus has been optimizing the systems, schedules and procedures already in place. Only a few of the buildings here are on the Building Automation System (BAS), so I emphasize early morning and late-night audits to ensure the HVAC systems are working efficiently. During October, for Energy Awareness Month, we displayed posters with fun energy saving facts across the residence halls. Come next spring, I plan on having an energy saving competition between the residence halls.
The Iona energy program officially began in June. How would you describe the success of the program in its early stages, and what do you think the future will hold?
From day one, the support from Cenergistic and the Iona Facilities Department have been overwhelming, which helped generate over 10% savings in just the first month. I hope to build on this great start by continuing to observe buildings' responsiveness during heating and cooling seasons while focusing on underperforming buildings. A successful energy program will depend not only on my work, but the involvement of others as well. Forming lasting relationships with the campus community and creating a culture of sustainability will only increase these savings over time.
What do you like most about your position?
This job is great in the sense that Cenergistic provides the framework, but I am able to build this program from the ground up. It is rewarding to be in a position where the effort I put into my work truly makes a difference. Limiting energy waste creates savings that will go towards campus-wide initiatives, which is a win-win for all.
To find out if a Cenergistic Energy Specialist like Thomas can help your organization consume energy more efficiently, contact Cenergistic for more information at 1-855-798-7779 or visit Cenergistic.com.